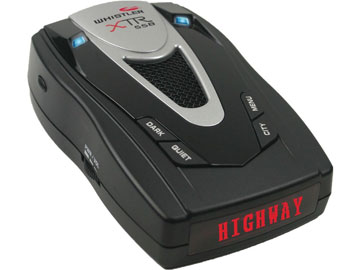 Whistler XTR-558 Laser-Radar Detector
Whistler XTR-558 laser-radar detector gives you a second pair of "eyes" to keep you aware of radar and laser guns on the road in advance. It detects all radar bands including X-band, K-band, Ka-band and POP modes, and detects laser singals in front of you and behind you. With a combination of real voice alerts and red text display, you're always in the know of a potential radar or laser gun.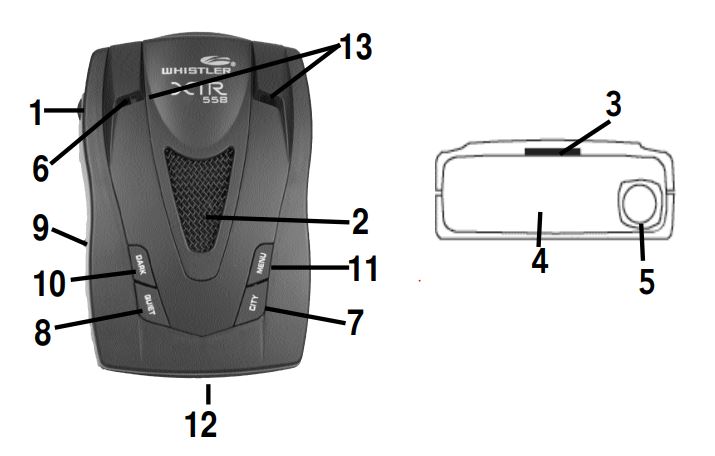 1. Bracket Release Button—provides quick and easy release of the mounting bracket.
2. Speaker—provides distinct audio warnings for X, K, Ka band radar, safety radar, laser and VG-2.
3. Mounting Bracket Location—slot holds mounting bracket firmly.
4. Radar Antenna—compact, high-efficiency antenna receives radar signals.
5. Front Laser—high gain optical lens provides increased sensitivity and field of view for leading-edge laser detection.
6. Rear Laser—an integrated optical waveguide provides superior detection of laser signals transmitted from behind.
7. City Button—reduces the annoyance of false alerts typically encountered in urban driving areas.
8. Quiet Button—pressing QUIET before a signal is detected engages Auto Quiet Mode which automatically reduces the audio level after the initial warning to a low audio level setting. Pressing QUIET during a radar/laser encounter silences audio alerts, while allowing visual alerts to keep you informed.
9. Power / Volume Control—turns unit on/off and adjusts audio level.
10. Dim / Dark— engages Dim/Dark modes.
11. Menu Button— enters Option Select Mode.
12. Text Display— provides distinct visual confirmation of signals detected, signal strength, and indicates engaged modes of operation.
13. Alert Periscopes—provide added visual alerts of threats ahead.