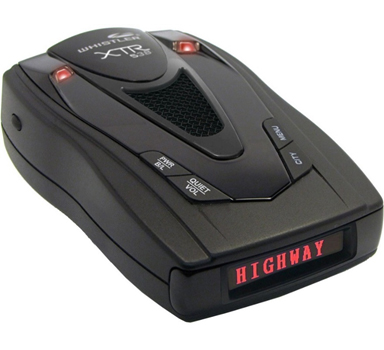 Whistler XTR-538 Laser-Radar Detector
The Whistler XTR-538 Laser Radar Detector has a compact & discreet design that provides a new level of operating convenience. Its Red OLED Text Display shows alerts detected, engaged modes & digital signal strength in easy-to-read text format (i.e. HIGHWAY or Ka9). Real Voice Alerts & Selectable Tone Alerts allow you to keep your eyes on the road, while Alert Periscope LED's on top of the unit provide bright red visual alerts. 360-degree MAXX Coverage & Total Band Protection ensure maximum protection in the front, sides, and rear of your vehicle. This unit detects VG-2 & POP Mode (brief bursts of radar), laser & radar signals including X & K band - SuperWideBand Ka - Laser (the only bands that are used for speed measurement).
Selectable Bands allow specific bands to be turned on or off. A High Gain Lens provides increased field of view which means better range. It has 3 different modes, including City & Highway as well as 2 additional filter modes to reduce false alerts. Additional competitive features include: a Setting Saver that saves your personalized settings so you don't have to re-enter them, Alert Priority, a Quiet/Auto Quiet feature, Dimmer, Safety Warning System that keeps you informed of highway safety where transmitters are located, & Stay Alert that tests your alertness on long trips. The XTR-538 is battery operated with rechargeable NiMH batteries that provide hours of use without the need for a power cord. Its Internal Battery Charger recharges the NiMH batteries in the unit when plugged into a functioning 12V socket. It also comes complete with a Windshield Bracket Kit, Power Cord & Manual for quick & easy setup.